Affiliate Links and Recommendations
These products are available through partnership programs
I only include products that I am willing to personally recommend and that educate or benefit my website clients.
I only include products that I am willing to personally recommend and that educate or benefit my website clients.
I appreciate your support in buying great products through these links. If you ever have a bad experience with any of these companies, please let me know. It is important to me that I only recommend and represent great companies.
"PCS Creative Services is a participant in the Amazon Services LLC Associates Program, an affiliate advertising program designed to provide a means for sites to earn advertising fees by advertising and linking to amazon.com."
As a customer of Dreamhost, we automatically receive affiliate opportunities for referring customers to them.
We are part of the Constant Contact partner program, and certified to provide services for their products, we have extensive training from our past participation in their Authorized Local Experts program.
Sign Up for a FREE 60 day trial account of Constant Contact.
The free trial lets you take the Email Plus package for a spin, which includes:
60-day free trial (starts when you sign up)
Unlimited contact upload
No functionality limits
Unlimited sending, publishing, and scheduling of all campaign types
Trial send limit of 100 contacts
Stock Photography
Deposit Photos is a stock photography site, similar to several out there. However, they have some great deals at times and I really like their infographic templates and flat vector illustrations for technology topics. Sign up here via my referral link: http://depositphotos.com?ref=8627856
Dreamhost Web Hosting
I started using Dreamhost several years ago for my blog. I kept using them when I started my business because they have that combination of geek joy and dedication to their customers that resonates with me. They don't piecemeal their account offerings or spam you with up-sale offers either. Their account types are straightforward and affordable.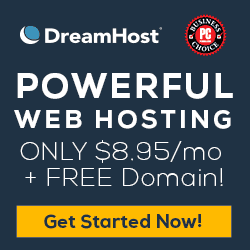 The HOTH Blog Writing Service
Great, consistent blog posts are so important, but many of the small business owners I talk to don't know where to start and don't have time to stay consistent. While I can write content too, I've been really impressed with the quality of content available from The HOTH. It is written with SEO in mind and I love when my clients use their service because it makes my job of putting blog posts on sites really easy.

WebinarNinja
I love how this company handled a major upgrade of their platform and how responsive they are to user feedback. They also provide a platform for increasing the visibility of webinars created by their customers via their Webinar Finder. Their site is easy to use as a webinar creator, and easy for attendees too. "WebinarNinja easily allows you to host, share and attend webinars with no worries. Get started today and create your first webinar in 10 seconds."
WebinarNinja Home Page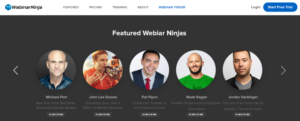 Amazon
First off, I love Amazon Prime. If you buy a lot through Amazon, the membership fee more than pays for itself.
Shop Amazon – Give the Gift of Amazon Prime
Now on to books:
In this book, a truly remarkable business guru talks about the importance of passion and purpose guiding start ups, not money. Those that succeed are in business for the right reasons. This helped me make better decisions when I decided to take the leap into starting my own business.

Do you have things on your website that might annoy or confuse your visitors? This book has great advice to help you build better content like labels for buttons that make sense and get clicked.

Be a Better Presenter
The overall advice in this book is great, but I love it because of the extra help with presenting on more technical topics. Be more engaging and interesting.

A friend recommended this book several years ago because it taught her strategies to keep her cool when dealing with difficult people during tense work confrontations. I found it valuable in helping me learn to be more objective and avoid making assumptions in many aspects of my life.

Guy Kawasaki is one of the names that comes up most often when people talk about Social Media experts. The advice in this book will help you make sure your time spent on social media is not wasted. There is an art to doing it right and a joy to be found in making social media work for you.